Deepfakes have found their way to the first pages of news and the internet a few years back with hyper-realistic face swaps. Now, the developers have channeled their knowledge to create something a bit more useful – Deepfake voice tools.
These can be used in advertising, the video game industry, phone calls, customer support, app development, and even to patch podcasts. Some tools can even generate customized music such as VansMeida from VanceAI. Which Deepfake voice tool you choose depends mostly on what are your needs, as they are not all equal. Crucially, almost every deepfake software & online tools on this list offers some sort of demo or a free trial that you can use to test it out.
Top 10 Deepfake Voice Software to Create Artificial Voices
Price

Speed

Quality

Multiple languages

Resemble.ai

Entry - 100,000 characters for $30/month;

Build – custom;

Enterprice – custom.

×

√

√

Descript

Free - $0/month; Creator - $12/month,

Pro - $24/month; Enterprise – custom.

×

√

√

Cereproc

$499.99

×

√

√

Respeecher

$200/month for 10 English voices

√

No API

×

Realtime Voice Cloning

$999.99

Super fast

√

√
1. Resemble.ai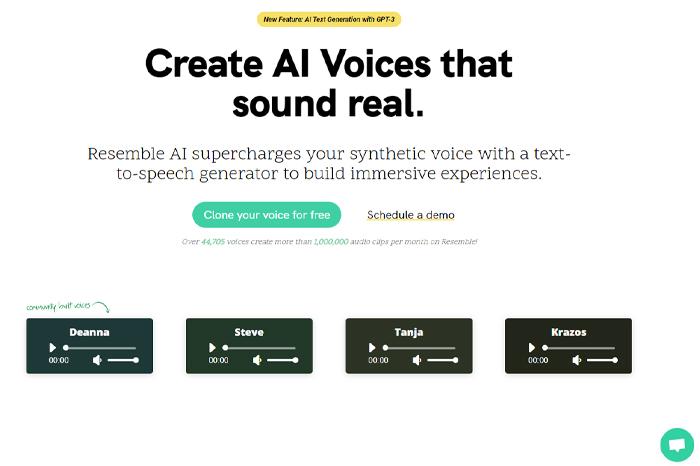 Price: Entry - 100,000 characters for $30/month; Build – custom; Enterprice – custom.

Resemble.ai allows you to clone voices by giving them a short audio input. The software then uses the data to create artificial speech. While Resemble develops software for every niche, its focus is on the entertainment industry. To get the best possible results, you should provide as much input voice as possible, but 3 minutes is the minimum. The more data you feed it, the more natural the recording. The final result sounds a lot like a human voice; however, you can distinguish it from real speech quite easily.

PROS:
• Great artificial voice
• Excellent for the entertainment industry

CONS:
• Needs several minutes of the input sound
• Only 1 preset pricing plan
2. Descript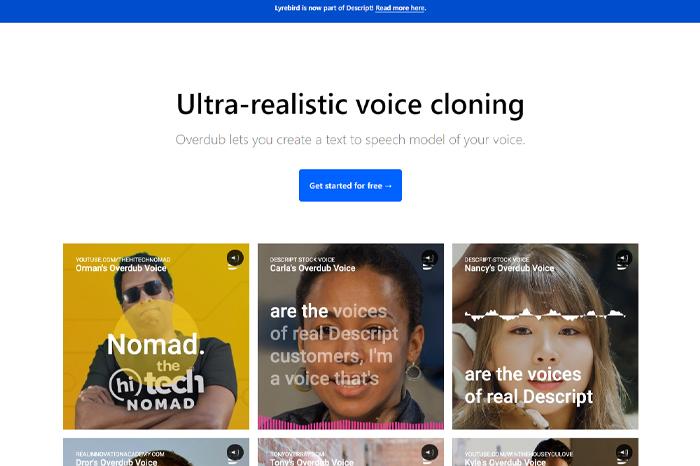 Price: Free - $0/month; Creator - $12/month, Pro - $24/month; Enterprice – custom.

Descript allows you to edit podcasts and other audio content, but it also has a feature to create an artificial voice called Overdub. Initially, the tool requires you to talk for at least 30 minutes by reading a script provided by the tool. Once you are finished, the machine will analyse your voice and will be able to replicate it. This process is also called »deepfaking«. It then allows you to type new content instead of recording it, which is insanely beneficial for podcasters.

PROS:
• Has a built-in podcast platform
• A variety of subscription plans

CONS:
• Requires 30 minutes of reading
• Distinguishable from a real voice
3. Cereproc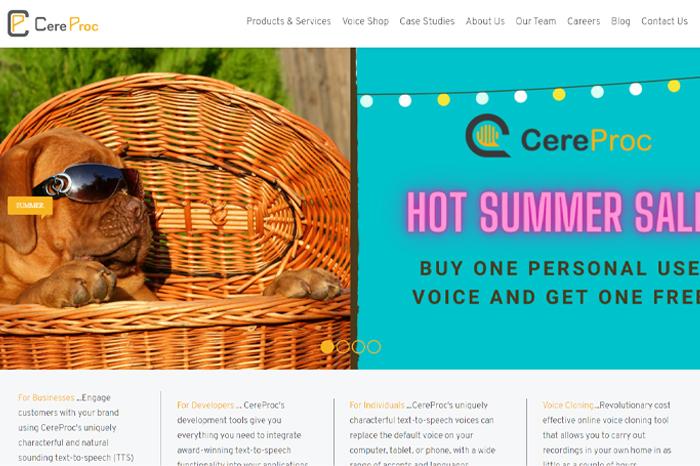 Price: $499.99

CereVoice Me by CereProc is an online voice cloning system that works in English, Spanish, Italian, French, Swedish, and Romanian. To initially record your voice, you require a quiet room without any background noise distractions, such as TV, music, or radio. What is more, Cerepros will send you a headset microphone, which you use to record all the input sound. This way, they make sure the voice is high-quality. The headset, though, is already included in the relatively high price, but you may keep it. You publish the recording via a web app through any browser and operating system.

PROS:
• Online editing tool
• Multiple languages

CONS:
• Quite expensive
• Rigorous
4. Respeecher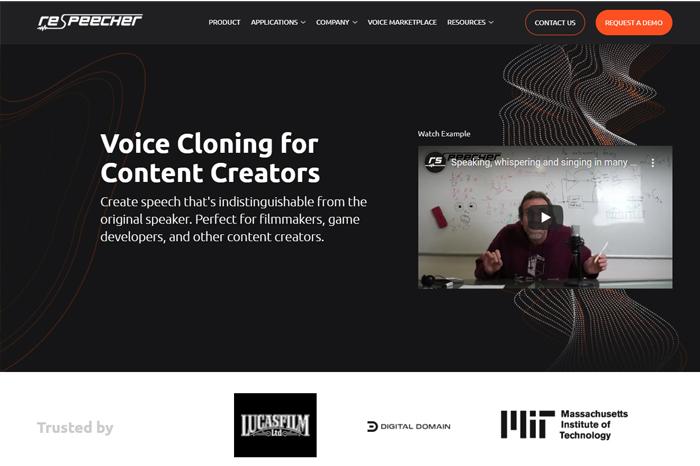 Price: $200/month for 10 English voices

Respeecher is still relatively new software. It is the best choice for filmmakers, game developers, advertisers, audiobooks and podcasts, and TV producers. Respeecher promises non-robotic voices by analysing the original speech. In short, it is a voice cloning tools that uses artificial intelligence to replicate and generate voices for your projects. In addition, Respeecher supports children voices and a couple of celebrities. Support is also quite responsive, and you may reach out to them via email at any time with your questions.

PROS:
• Adjust speaking rate
• Synchronize speech

CONS:
• No API
• No multi-language support
5. Realtime Voice Cloning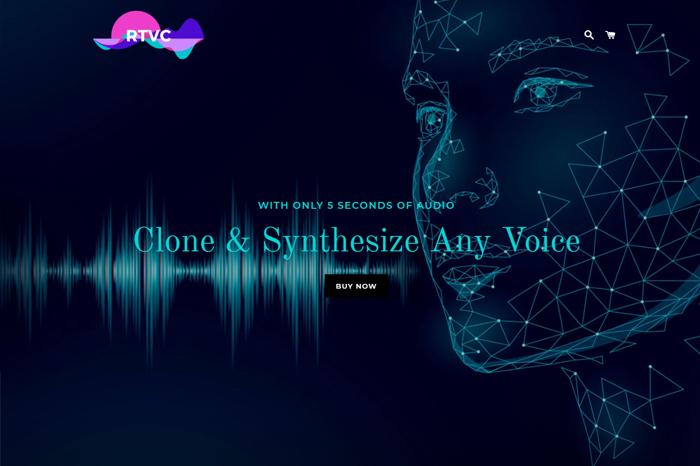 Price: $999.99

With Realtime Voice Cloning (RTVC) tool you may clone and synthesize any voice with just a couple of seconds of input audio. However, since some tools require you to upload anywhere between 3 and 30 minutes of sample audio, you must ask yourself: Is a couple of seconds enough? In my opinion, it is the bare minimum, which yields questionable results and is more of a marketing statement. Nonetheless, you can download RTVC for Windows 10 and 7 with the latest Nvidia drivers.

PROS:
• Only 5 seconds of an input voice
• Great results

CONS:
• Very expensive
• Works only on Windows
6. iSpeech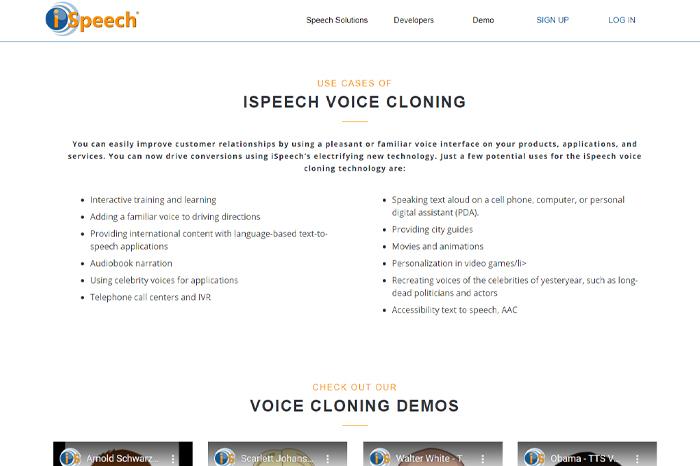 Price: N/A

iSpeech is a voice cloning tool promising to enhance your relationships with customers by providing familiar and pleasant artificial voices to augment your product and service pages. It can be effectively used for telephone call centres, audiobook narration, game development, movies and animations, and also online learning. However, you are not limited to the conventional use of artificial voice. You may also use it to develop apps, such as city guides, language-based apps, or to recreate the voices of celebrities.

PROS:
• Offers free demo
• Replicates celebrities

CONS:
• Price not available
• Lacks information
7. VoiceWear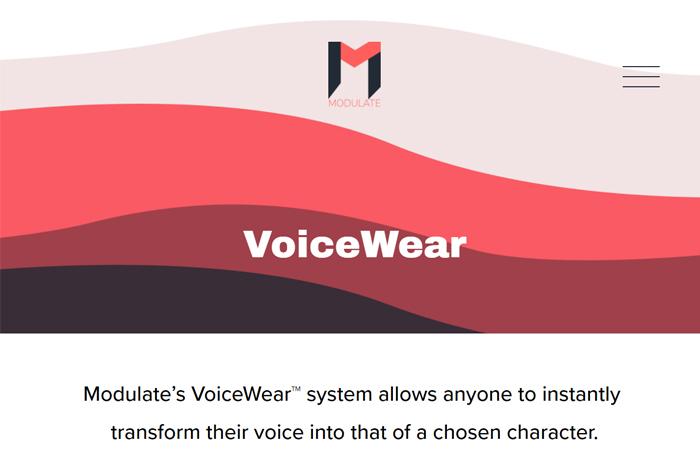 Price: N/A

VoiceWear offers voice skins, which are a new kind of online assets that you can use to modify your voice. Voice skins hence almost instantly, within milliseconds, modify your voice to better reflect the character you want to be – they can change your age, body type, gender, and even make it sound inhuman. What is more, modulate.ai, the developer of VoiceWear promises zero glitches and artefacts that give away your true identity. You can also create custom voices by providing three hours of speech from a specific character.

PROS:
• Works extremely fast
• Allows you to become any character

CONS:
• Need 3 hours of training data
• 1 month to process
8. Readspeaker.ai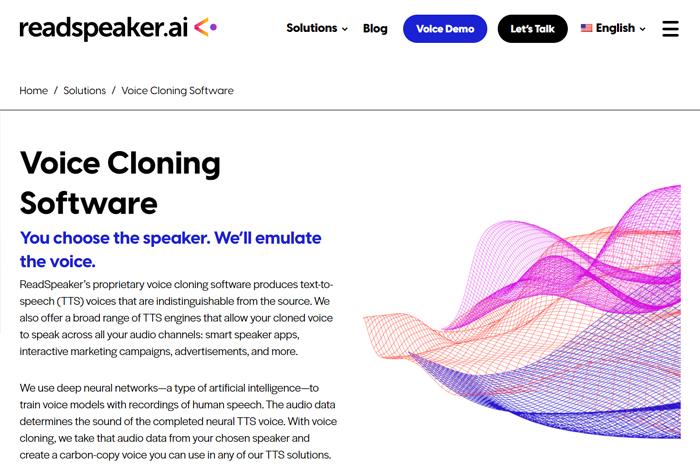 Price: /

Readspeaker.ai produced Voice Cloning Software that emulates voices by converting text to speech. What it offers is a wide range of voice that indistinguishable from the source. This way, your business can use the voices of the best voice actors for your narration needs, such as advertising campaigns and speeches. And you do not have to say a word. Although Readspeaker.ai is monolingual, you can teach it to speak a foregin language. All you need to do is provide enough input samples. If you are ready to start using it, you can request a demo.

PROS:
• Free demo
• Allows foreign languages
• Has other TTS tools too

CONS:
• Lacks additional information
9. ReplicaStudios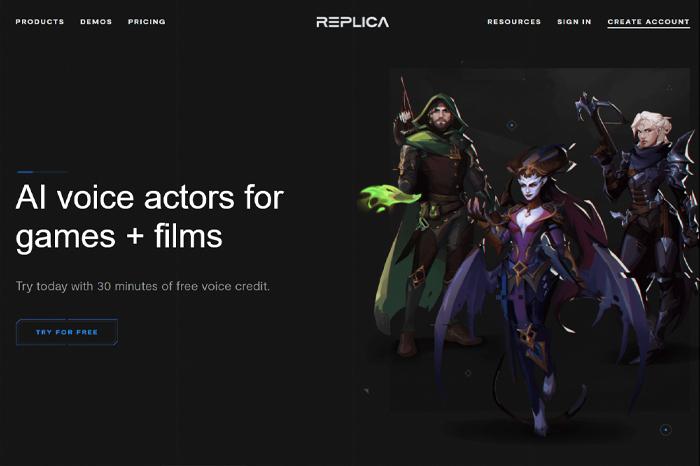 Price: 30 mintues free; For creatives - $24; For Business - $300; For Enterprise – custom.

AI Voice by Replicastudios is an outstanding online platform for artificial voices. The quality is superb since the company uses highly talented and determined voice actors to produce hours of custom voices, which are then fed to the AI. The result is a nearly flawless artificial voice that you can use for your projects, especially in video games. Replicastudio thus provides voice artists on-demand, meaning you do not have to hire a voice actor and rent a studio. You can simply buy a voiceover and be done within a couple of minutes.

PROS:
• Professional voice actors used for input samples
• Great price and voices

CONS:
• Limited choice of voices
10. Voice changer with effects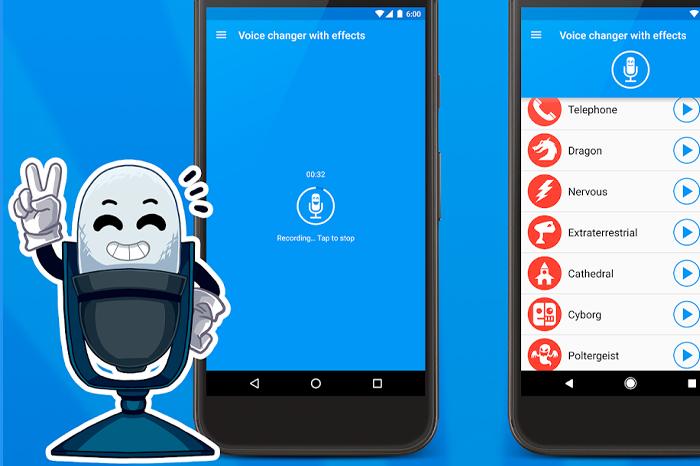 Price: Free

For a free app, Voice changer with effects is a cute app that changes your voice straight from the mobile device. However, you must realize that such an app produces lower-quality voices compared to high-end software. Therefore, it is not suitable for business and your professional projects. Voice changer with effects is available only for Android devices. It can mimic giants, and squirrels, makes you sound extraterrestrial, like a dragon, or just make you sound nervous. It is also very simple to use; first, record your voice. Then, choose a filter you want to apply to create new voices.

PROS:
• Free
• Available on mobile

CONS:
• Not as good as professional apps
How to deepfake a voice?

To deepfake, a voice one should choose a deepfake software capable of transforming text to a specific voice. Deepfake tools work by analysing samples of a certain person's speech and then transforming every other speech or text to that exact same voice. However, voices often sound robotic and require several minutes to hours in order to create a realistic voice.
What is the best deep voice software?

The best deep voice software is VoiceWear and Ai Voice by Replicastudios. Together, these two can create awesome voiceovers. One is capable of providing real-time speech transformation called voice skins, while the other hires professional voice artists to create several hours of sample input speech, which results in hyper-realistic artificial sounds.
Also read: What Makes a Good Podcast?
Conclusion

The rise in popularity of artificial intelligence has brought AI to the world of speech creation. While it was necessary to hire a speech artist to create artificial voices until recently, you can now do so simply by purchasing online software.

I listed several text-to-speech online tools on this list, but they are not all equal. Which one you choose, should primarily depend on your needs as each tool comes with its pros and cons. Some are better for business and phone calls, while others are aimed at the video game industry. Apart from deepfake voice generators, we can also generate music with AI, like the upcoming Vansmedia.

Unfortunately, a lot of tools still sound very robotic and are easily distinguishable from a real human voice. Click 5 Ways to Remove Background Noise from Audio 2022 to get more information to edit the sound of audio or video.
Also read: Top 5 Best Deepfake Makers Recommended.
Do you find this post helpful?
Yes
No