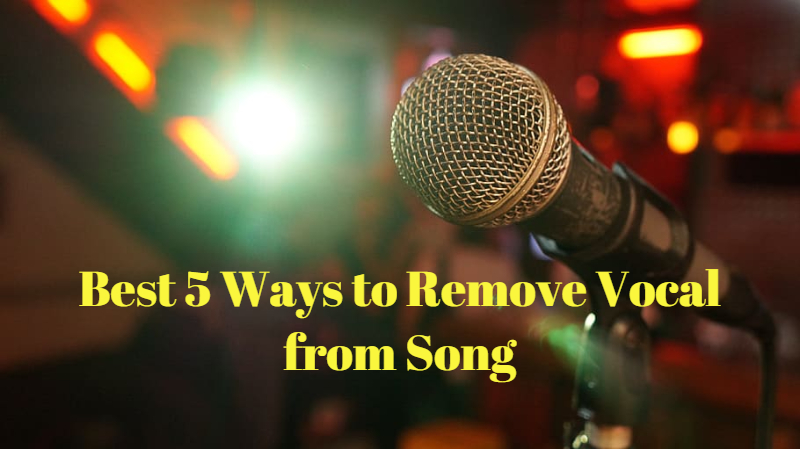 Just like how you can now easily remove background from images, you can also separate vocals from music. That's right, thanks to AI and Machine Learning, you don't have to think too deeply about how to separate music from vocals. You can instead use any of the upcoming vocal remover tools such as Vansmedia or the tools we are about to mention in this list of top five. With vocals and instrumentals apart, you can edit each of them to take your tracks to the next level. Or, you could also use just one of them for casual use.
How to Remove Vocals from Song in Best 5 Ways
1. Remove Vocals from Song with Vocalremover.org
Price: It is possible to remove vocal from song without having to pay anything.
Vocalremover.org is one of the best and easiest applications that you will find if you want to separate vocals from music online without cost. The reason for this is that the application is reliable and uses AI based technology to process your tracks. After processing, it divides the vocals from the instrumental and provides both for easy download.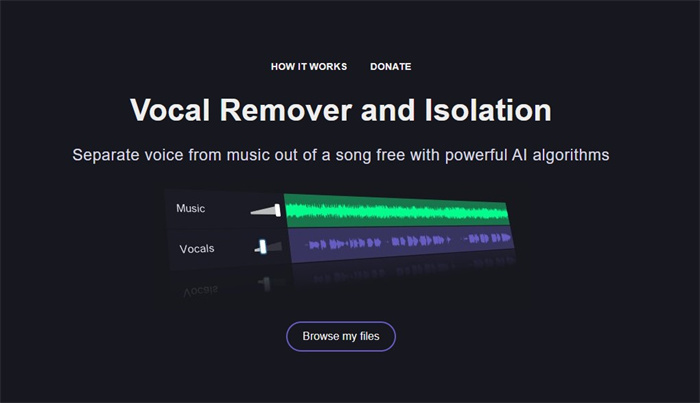 1. Use the link given to access the website and click on Browse my files to start to remove vocal from music.
2. Once the file is there, the tool will process it and remove the vocals. It will display the results of both vocals and instrumentals.
3. You can download them by using the Music and/or Vocal buttons.
2. Remove Vocals from Song with Moises
Price: Moises is an amazing tool for music editing and production but it's free version is limited to five uploads per month. The premium version costs $3.33 per month.
With this automatic audio editor, you don't need to think about how to remove vocals from a song. Moises is a standout application because this tool will take care of the vocals and provide features for you to further edit your tracks. Apart from that, Moises can also be found on the Android and iOS mobile devices. There are over 5 million users editing and creating music from Moises.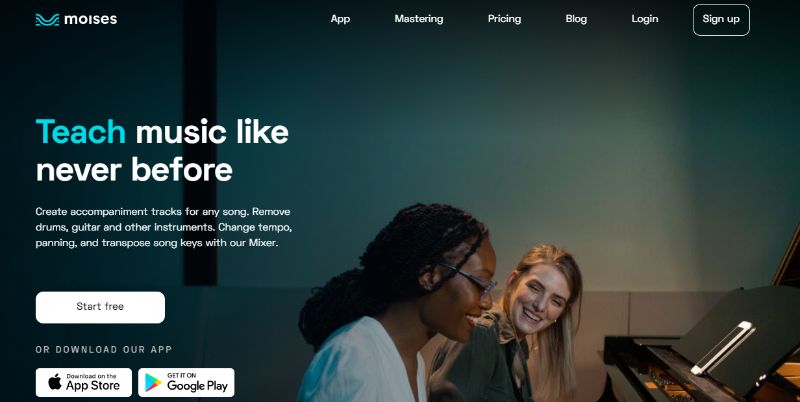 Click on Start Free and create a free account either through the website or Google, Facebook, etc.
After that, upload your track and choose Track Separation. Wait as the app processes the request.
Download the file using the download options.
3. Remove Vocals from Song with Lalal.ai
Price: You can remove vocals from music that is about 10 minutes worth. After that, you will need to pay a minimum of $10 for 90 minutes worth of conversions.
Lalal.ai has some exceptional AI based technology when compared to other similar applications. With this tool, you can distinguish vocals and instrumentals separately or together and you can distinguish smaller sounds such as drums, bass, guitar, and more. It also supports a ton of file formats such as WAV, MP4, MKV, AIFF, etc.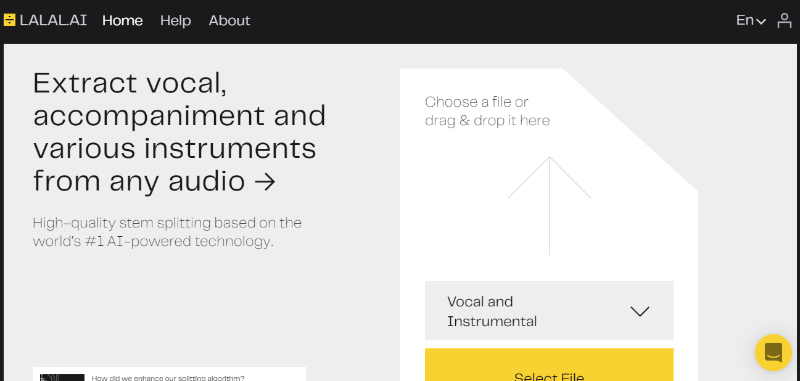 1. Click on the Select File button after using the link to access the website. Also, check the settings above as per your requirements.
2. Wait as the tool processes the track. The results will be displayed in less than a minute.
3. Click on the Download icon near the track to save the track on your device.
4. Remove Vocals from Song with Vocalremover.com
Price: You can remove vocals from a song for a limited amount of uses only. The paid plans start from $7.99 for every three songs with ultra fast conversion and other features.
A great aspect of this online vocal remover application is that it allows MP3, WAV, and FLAC file formats, hence uploading is rather easy and convenient. Other than that, this tool also makes use of AI and Machine Learning systems to process songs and display results in less than a minute. Though the drawback is that it is not fully free.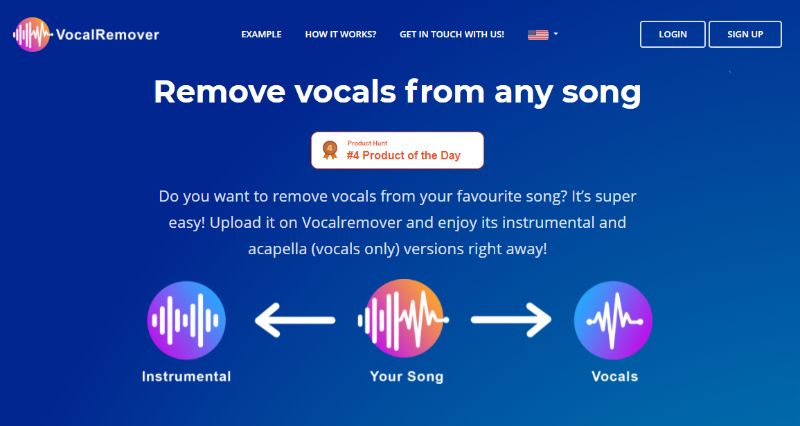 Use the link and scroll down to use the upload button for uploading a track.
The app will automatically process the song and display the vocals and instrumentals track.
Download them using the download options given.
5.Remove Vocals from Song with Edityouraudio
Price: You can process up to three songs for free daily with the free account. For more, you will need to pay $9.99 per month.
Compared to the previous application, this one offers support for WMA and AIFF formats in addition to the traditional MP3, FLAC, etc. The files can be up to a size of 30 MB, which is definitely sufficient for most songs. Not to mention that you can also paste URL links of songs taken from YouTube to make things simpler. Lastly, it also features a list of the latest songs it has processed.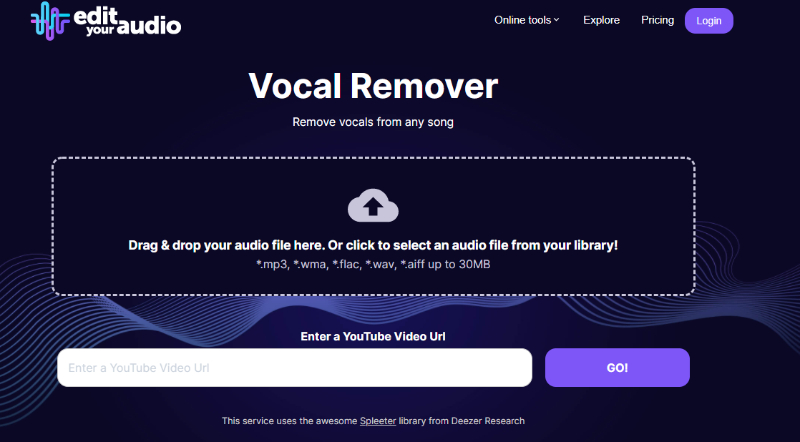 After accessing the website, either use the upload box or paste the YouTube URL and proceed.
You will see the vocals track on the screen.
Use the download button to save the vocals file.
Conclusion
How to take vocals out of a song is no longer a worrying question thanks to the automatic AI based audio editing tools mentioned in this list and the upcoming Vansmedia application from VanceAI. Music, just like any other art or visual, is incredibly complex and tough to break down. With modern technology, however, you can now separate vocals, music, drums, and so much more. You can then use each individual piece in your own composition however you like it.
FAQs
1. How do I separate vocals from music online?
To separate vocals from music online is now a simple task that requires just three steps at max. You can use any of the links given for the applications featured in this list. Next, you just need to click on the upload box to select a track. The application, which is mostly based on AI, will automatically process the track and give you the results. Now just download the track or vocals by using the download options.

Do you find this post helpful?
Yes
No