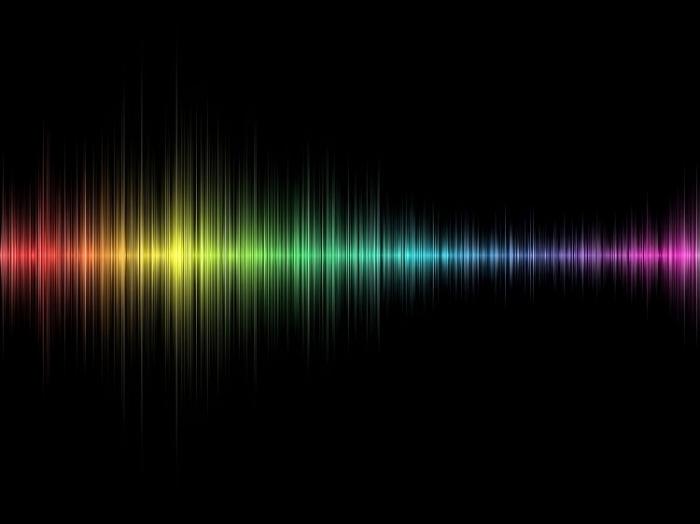 Have you worked on an audio project and seen that there is background noise and you did not know how to remove it? You really need to get rid of this, otherwise, your audio project will not sound professional. Fortunately, it's easy to remove background noise from audio if you have the right tools. In some cases, you may be happy to keep the audio background. In other cases, it may be that you did not know that the background noise was the one that created the problem.
So when you should remove background noise from audio? There is a simple rule here. If the background noise ruins the quality of the music or voice that is the main feature of the recording, then it must be eliminated. Or at least, it needs to be reduced. In short, whether it's an audio recording or a song if you see that background noise is ruining the audio quality, then you should eliminate this. The good news is that we are about to launch a powerful AI tool--Vansmedia to help you edit your audio, video, or other media. Apart from audios, thanks to the advance in AI technology, you can also remove background from images with AI-powered background remover.
In this article, I will present to you the best 5 ways to remove background noise from audio and how to remove background noise. Even if this are the main subject of the article, I will discuss briefly how to remove background noise from video and photos. there is also background noise on the image, not only in an audio file. If you want to remove background from image, you can go to the official website of VanceAI. But first, let's focus on the best and easiest ways to remove background noise from audio.
Part 1: Remove Background Noise from Audio with Audacity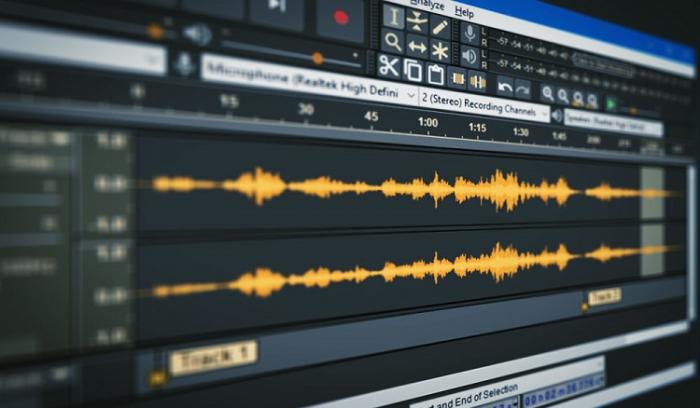 This is the most popular audio software and it has all the features and options you will need. It is free, open source and it is easy-to use. Audacity it is a multi-track audio editor and recorder for Windows, macOs, Linux and other operating system, that can help you achieve professional sound effects and more. The most important thing is that you will see how to remove background noise from audio with Audacity. It is really straightforward. Just follow the steps below:
Step 1. Access the Audacity website and download the software, afferent to your operating system. Download time is less than 30 seconds.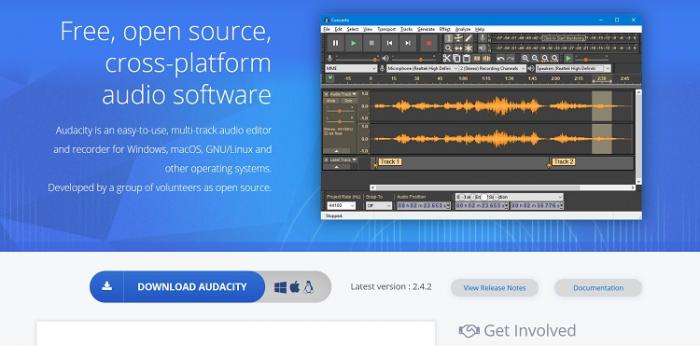 Step 2. Run the program and click " File" – " Import" – " Audio" to import your audio file from your PC.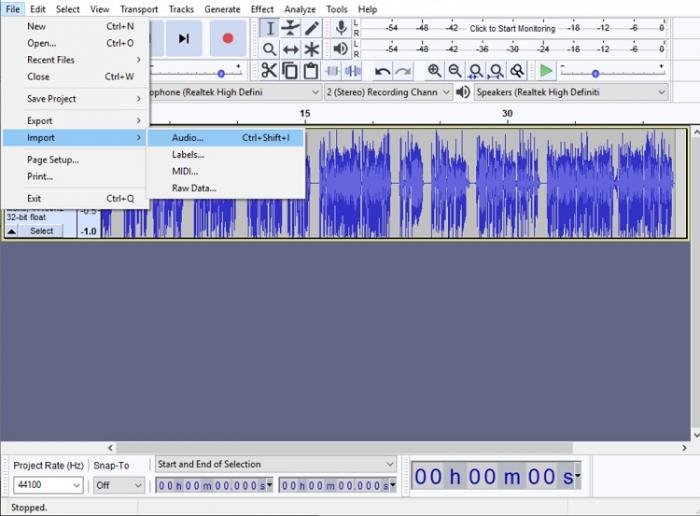 Step 3. Go to "Effects", then click "Noise Reduction".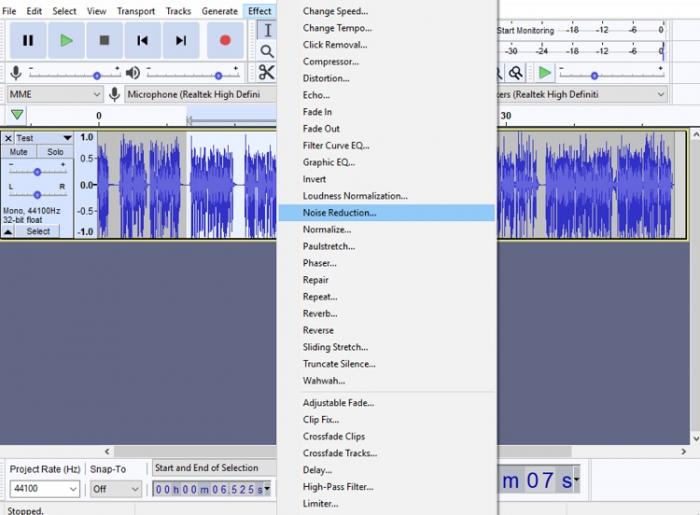 You will see a dialog box with a two-step tool. First, go to Step 1 and click the Get Noise Profile button. At this point, the Noise Reduction window will close. Now select the audio part you want to remove. If you want to remove the background noise from the whole audio file, simply double click the track. You will know that you have selected what interests you because the color of the track will change to light blue.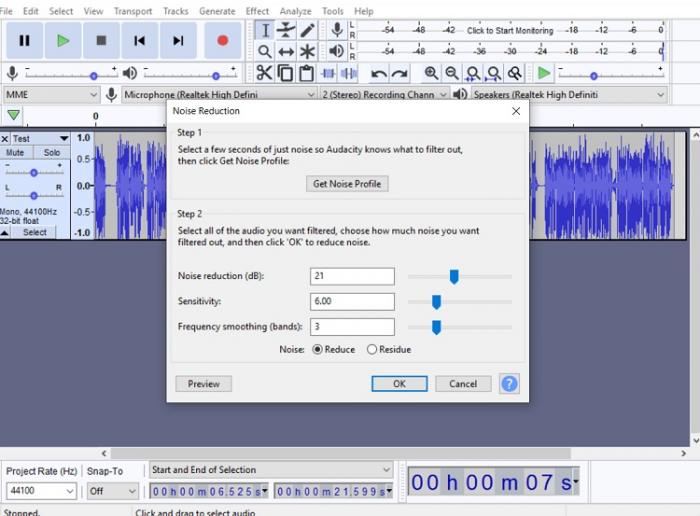 Step 4. Now go back to "Effects" – "Noise Reduction" and look at Step 2. In most cases, the default settings of Noise Reduction, Sensitivity and Frequency Smoothing will work quite well. Go ahead and click OK to accept these changes. It may take a minute or two to eliminate background noise, this varies depending on the length of the track. Of course, you can change the Noise Reduction, Sensitivity and Frequency Smoothing settings. If you have the time to modify and try them, you will definitely get a better result. Note that in the case of longer parts, the processing time will increase.
Once this is done, preview the results. If you are satisfied with these, click "File", then "Save to " save the changes, finally you can export the project as an MP3 file.
Part 2: Remove Background Noise with Other Free Tools
1. VSDC Free Video Editor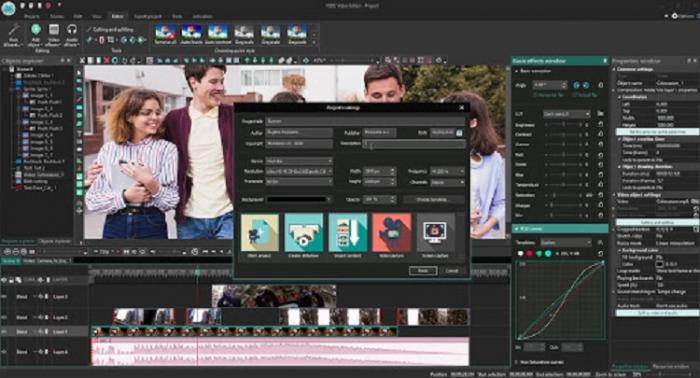 VSDC Free Video Editor is another free background noise removal tool. Of course, you can use is it for a multitude post production tasks, including editing a video. This offers two powerful Audio Denoise Filters: Audio gate and Median filter. You can find these in the "filters" section.
2. Veed.io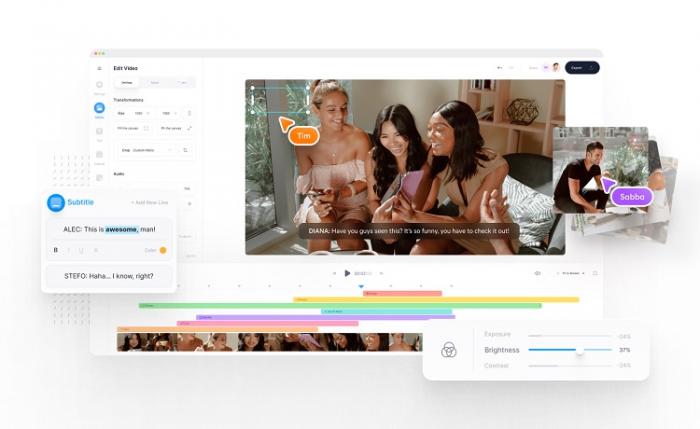 Veed.io will help you clean up your audio file for free but projects must be under 10 minutes and 50MB. It works perfect and no download is required but your files will have a watermark. It can be used if you have personal projects, otherwise this watermark it`s a wreck.
There aren`t that many tools that you can use for free that allow you to remove background noise from audio but the ones presented here can be useful
3. Mp3, MP4, WAV Audio Video Noise Reducer, Converter
The app dedicated to Android users, that can save your audio files. Through this app you can remove background noise from audio in seconds. It has also a sound recorder with a noise reducing feature, so it is perfect for those who need to record a voice over for commercials and other audio projects. This background noise remover app is pretty popular.
4. Audiodenoise.com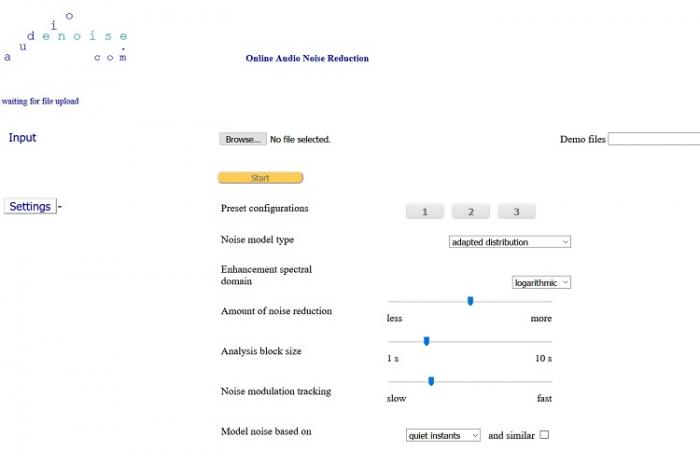 This is an online tool and it is very handy if you need to remove background noise from audio. The interface is not friendly but at the end, the result is the most important thing and this background noise remover tool works just fine.
Part 3: How to remove background noise from video?
Audacity, VSDC Free Video Editor , Veed.io allows you to edit the video and remove background noise from video. These tools work like advanced editing programs such as Adobe Premiere, Final Cut etc. If you import a video into one of the mentioned programs, you will see that the video file and the audio file are positioned on different tracks, so you can control it individually. So, all you have to do is to select the audio file, go to filters and search for " noise reduction" option, in order to automatically remove background noise from video.
However, if you are using a dedicated audio software, then you need to extract the audio file from video, in order to remove background noise from audio. For this, I want to present you a little hack. It lasts a few minutes and the effort is minimal. Did you know that you can extract an audio file with VLC? If not, try it right now. Open VLC and go to Media and then Convert. At this point you must choose the .MP3 format.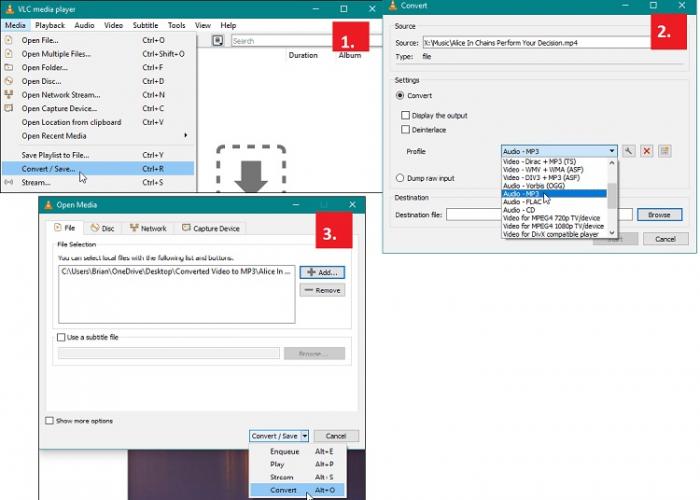 Now that you have separated and exported the sound from the video, you can insert it in one of the mentioned background noise removal tools. So, if you want to remove noise from a video requires an extra step only if you use an audio editing program that does not support video files.
Part 4: How to remove background noise in Photoshop?
Probably one of the most common and annoying situations for amateur photographers is that of photographs taken in dimly lit spaces late at night…And so the image noise appears. First, the photo must be "illuminated". For this we use the adjustment bar with Fill Light slider. To eliminate this image noise, we will use the slider adjustment bars in the Noise reduction box in the Detail panel. First, drag the Color - Color and Color Detail - Color Detail sliders to a maximum of 100 for good color retention in the image. Then the Luminance slider, which is initially at zero, we drag it to the right to a level that reduces the image noise as much as possible by combining those colored dots with the image, without losing too much of the image clarity. After obtaining an image in which the noise is no longer so obvious, the Luminance detail slider is used to highlight the image details as much as possible. Be careful not to abuse it too much because it will bring the image noise back. Ideally, the Luminance Detail slider should have a lower level or at most equal to Luminance.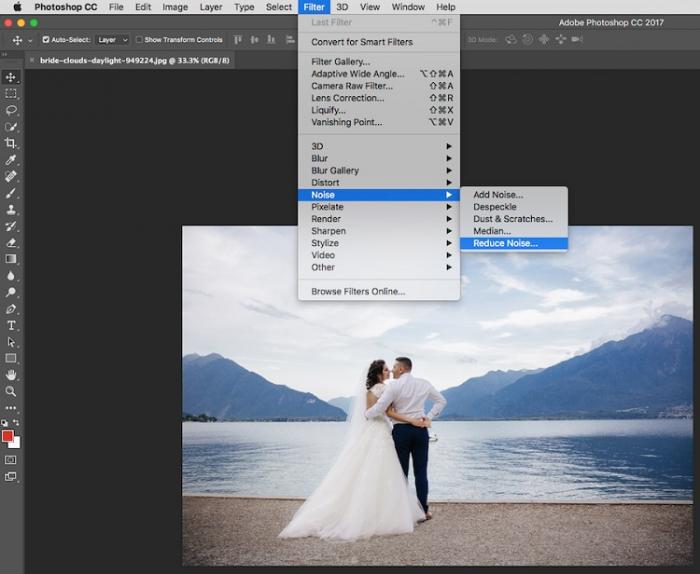 How to remove noise in Photoshop? As you can see it's extremely easy, it's all about sliding and a few clicks.
Conclusion
I hope this article has given you some solutions in order to remove background noise from audio and image. Although there are not many free background noise removal tools, these are the very best. Of course, Audacity wins the competition between those presented. It is versatile and intuitive and does its job 100% like a professional program. Besides, let's look forward another useful tool from VanceAI-Vansmedia to help you generate music. You can also check out one of the best tools from VanceAI for image noise reduction.
As you may have noticed, the noise concept appears is found in both image and sound and can ruin your projects. In any case, it is not complicated to remove background noise from audio or image. In conclusion, because the main subject was about how to remove background noise from audio and dedicated tools, I wish you a pleasant audition. Also Read: Best 5 Ways to Remove Vocal from Song
For more information about Vansmedia or ways to transform your media file, check out our blog post where various ways with step-by-step guides are reviewed.
Do you find this post helpful?
Yes
No